Starlink Beta launched late in November 2020. By the end of January 2021, the company had amassed 10k plus Beta Testers from Canada and the United States. Following that announcement, there was a big push for more Beta Testers on February 4, 2021, which saw 500 new subscribers being added daily. This massive Beta push was only in areas of active cells however. Then on February 8, Starlink offered pre-orders for anyone around the globe (except for a few unlucky countries) outside active cells for $99usd (or equivalent exchange).
What is Starlink?
Starlink is a constellation of Low Earth Orbit (LOE) satellites. It is different from geo-stationary satellites due to the fact that the constellation is always moving. This means user terminals continually connect to which ever satellite is overhead at the time. This hand off happens seamlessly, and without interruption to the end user. Beta users are reporting speeds of 150mbps down with 50 to 80mbps up. Due to the fact the constellation is so close to Earth, latency (the time it takes to send and receive data) hovers around 24 to 34ms.
These satellites make a connection between the user terminal and a ground station. It has been reported in several places that user terminals must be within 940km of a ground station in order for the connection to be completed.
Eventually the constellation will be replaced by the version 2 satellites that don't need a ground station within their line of sight. They will use lasers to link to the next satellite over in the constellation that can see a ground station. They have already launched 10 of these satellites into polar orbit.
Currently there are 1000 plus satellites in the constellation so far, with plans to have up to 40,000 when the constellation is complete. This will allow anyone in the world to have access to high speed internet.
Starlink in Canada
Although Beta invites went out to all provinces in Canada, except Quebec and the more northern territories, additional invites are being limited to Ontario, Manitoba, Saskatchewan, Alberta and British Columbia. In Nova Scotia, New Brunswick, Prince Edward Island, and Newfoundland, no new invites have been reported beyond the initial release in November. All of these invites have been limited to above the 45N latitude.
If you live outside an active cell in one of these areas, and would like to preorder, head over to Starlink.com and fill in your email and address. You will either be presented with an offer to join full Beta, or an option to join the pre-order line. The full beta costs around $800CDN and the preorder queue is $129CDN.
Although there is limited information as to why Beta invites haven't moved East of Ontario, it is safe to assume it has to do with the availability of ground stations within Eastern Canada. Currently, the only known active ground station is located in St John's Newfoundland and is listed as a "Testing and Development" site. In Quebec, the issue is around regulation and approval is making it's way through the legal system.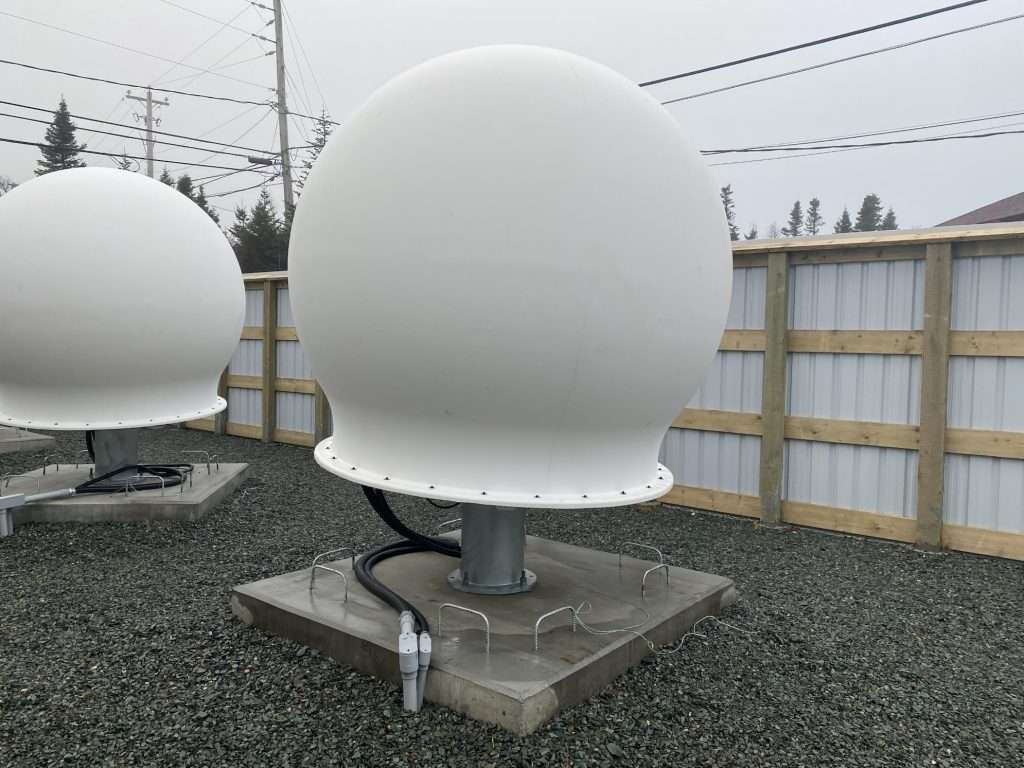 Presently SpaceX has applied to Global Affairs Canada for additional ground stations. Following the 6 month approval process, we should see new / additional ground stations being installed sometime within the Summer of 2021. This would seem to validate the pre-order email users received when signing up from various locations, that service would be provided in their area by "mid to late 2021".
Starlink Kit
Once you are lucky enough to fully order your Starlink kit it should arrive within 5 to 8 business days. Some report much faster shipping times. It should be noted that this is once you receive a shipping notification.

Within the kit is the dish which is hard wired to a 100 foot long POE cable. This cable can not be removed from the dish, and it is also ill advised to couple it or cut it to extend it. The reason for this is the dish is powered by Power Over Ethernet or POE. The dish can draw as much as 150watts when in snow melt mode. So unless you really know what you are doing, you should place the dish within 100 feet of a power source.
The dish also comes with the standard Volcano Mount for roof mountings. Once your kit is shipped, the Starlink store will become available on your account and you can choose to purchase additional mounting options like the pole adapter or Ridgeline mount. Note, that if they are not in stock, they won't show up in the store, so keep checking back.
Beyond the dish and 100 foot cable, is your POE injector. This sends power to the dish. You will also get a standard router that can provide WIFI in your home. If you are like me, however, you already have a router and can simply hook the white cable into your router or switch and be ready to go.
If you use the StarLink router that is provided, you will have access to your internet stats via that Starlink App that is available in both IOS and Android. If you're link me however, and want to use your own router but still look at the stats from the dish, you will need to set a static IP. This will be different depending what router / switch you have. Best bet would be to Google your router make and add "How to set a static IP".
Next Missions
For a current list of upcoming launches by SpaceX, you can check out their online schedule that they maintain. If you are also inclined, they stream the entire event from their site as well.
If you would like to see what the constellation looks like thus far, CelesTrack has a great visualization of the satellites, as does SatelliteMap.space. It should be noted that these are not very mobile friendly and use lots of data. They are best viewed on a non-mobile device connected to WIFI.